Rating:
Selling Price:
$10.00 – $15.00
Setup Costs:
FREE
Availability:
In Stock
Profit:
50% Profit
Free Shipping:
Yes*
(minimums apply)
Please select a valid form
Cookie Dough and Popcorn Fundraisers Are Profitable & Fun
Within this brochure you'll find some of the most delicious edibles around, including 10 varieties of our "just like homemade" Goodies Factory cookie dough. The Goodies Factory pre-portioned cookie dough is ready to bake. Each 2 lb box contains 32 (1oz.) frozen cookie dough pucks. The brochure also features 5 flavors of our gourmet popcorn (gallon bags), and 3 of our specialty flavors (half-gallon). There's also a variety of gourmet candies, sweets, and hearty snacks.
The following cookie dough flavors are included in this brochure: Chocolate Chunk, M & M Rainbow, Peanut Butter Chocolate Chip, Chocolate Chips; Chunks & Pecans, Oatmeal Raisin, Sugar Cookie, White Chocolate Cranberry, Lemon Drop, Snickerdoodle, and White Chunk Macadamia Nut.
The following popcorn flavors are included in this brochure: Buttery Caramel, Three Cheese, Cheddar Jalapeño, Chicago Style, White Cheddar, Cookies & Cream, Chocolate Delight, and Nutty Caramel.
Why Choose The Goodies Factory?
We are the Manufacturer.
There is no Middle Man marking up your cost and reducing your profit!
Minimum Order for Free Shipping are the states in Red: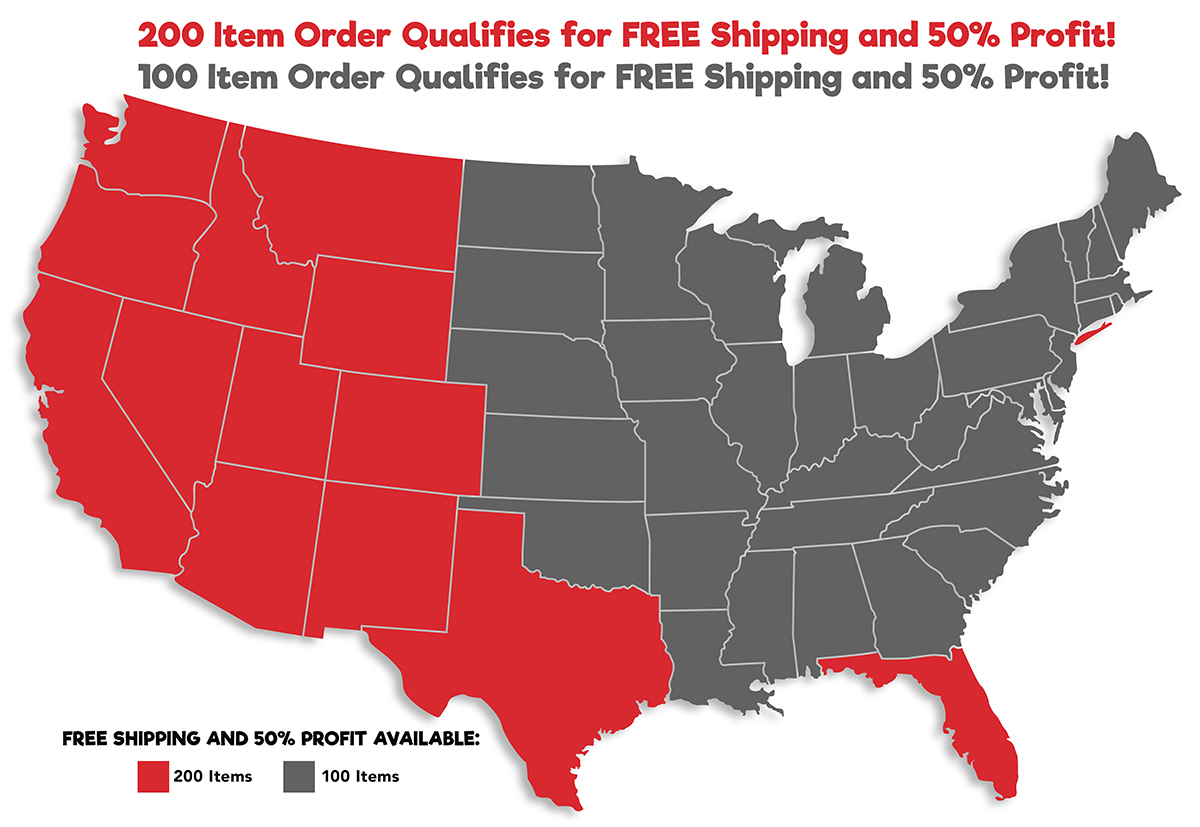 There are never any shortages or substitute items
Always in stock, so turnaround time is a week or less.
We control all aspects of production, tallying, picking and shipping of orders. We are your one stop fundraising supplier. 
Anyone Can Sell!
Whether it's a school trip or new uniforms for your baseball team, anyone can do a fundraiser. The fundraisers aren't limited to only the one's schools and organizations put on. You're allowed to individually fundraise for your organization by yourself. You set up the fundraiser, you do the selling, and you earn the profits!
Profit & Cost
Group
Size
Participant
Rate
Items
Sold
Total Items
Sold
Avg Item
Profit
Your
Profit
2000
50%
6
6000
$6.00
$36,000
1500
50%
6
4500
$6.00
$27,000
1000
50%
6
3000
$6.00
$18,000
750
50%
6
2250
$6.00
$13,500
500
50%
6
1500
$6.00
$9,000
250
50%
6
750
$6.00
$4,500
100
50%
6
300
$6.00
$1,800
50
50%
6
150
$6.00
$900
Fundraising Benefits
NO MONEY UP FRONT – Choose any of our brochure sales and you do not pay for anything until the completion of your sale. Simply choose your brochure, collect the money as you take orders, pay only for the product ordered and you keep the profit.
FREE ORDER FORMS - We provide all the selling materials absolutely free. We furnish color brochures, order forms and cover letters for all your sellers at no cost to your organization.
AVAILABLE ANY TIME OF THE YEAR - We have a fundraising program that is perfect for any season- Summer, Fall, Winter and Spring. We are a year around fundraising company and will find a program that is perfect for your organization.
FREE SHIPPING – We ship orders across the country and shipping is always free as long as you meet the low minimum of at least 150 units.
INCENTIVE PROGRAMS - Our incentive programs are designed to motivate students to participate in the schools fundraiser. We offer cumulative prize programs, cash back incentive, limousine rides, inflatable parties and much more. Ask your representative for more details.
PACKING OPTIONS - We offer different packing options depending on the brochure selection and the needs of your organization. Pre-packaged per student orders are available in most cases. If you have a group of volunteers you can take your order bulk,but it will still be picked to the piece to avoid any left overs.
Why Choose The Goodies Factory?
As a family-owned and operated business, we manufacture our popcorn and cookie dough, and ship it to you directly from our warehouse, thereby cutting out the cost of the middleman. Because of this, we're able to offer not only the highest profits available, but also several personalized services that our competitors don't offer. When you book a fundraiser with The Goodies Factory, you'll enjoy the ease and satisfaction of working with our friendly staff and knowledgeable sales coordinators.